One of the most important things when hurtling down the side of a snowy mountain is being able to see exactly where you're going. No, really. Skiers can reach incredible speeds when on the most difficult runs, and there are countless obstacles to avoid and negotiate, from kickers to moguls and even fellow skiers who may not be as confident or who are stopping for a break.
With so much to avoid, it's no surprise that skiers put an absolute premium on keeping their vision clear, and this is key because there are many things that can affect your vision while skiing.
The spray from skiers and snowboarders can affect your ability to see, as well as the sun, which at altitude is much stronger, especially when light bounces back up off the snow causing snow blindness, a nasty condition that could spoil your whole ski trip if you don't protect yourself adequately.
Most skiers use goggles to avoid these perils, however, not all goggles are created equal. While some designs are quite capable of keeping the sun and debris out of your eyes, they can also have a nasty habit of fogging up, which causes the exact same problems skiing goggles are designed to prevent!
This, sadly, is the inevitable duality of skiing goggles. Skiing is quite intense, and goggles quickly fill up with sweat and moisture which can badly affect your safety on the slopes.
The answer to this, is anti-fog goggles, which are specifically designed to do everything goggles are supposed to do, with the added benefit of not fogging up and affecting your vision in a different way!
These specialist designs are made to reduce fogging as much as possible and do this in a variety of ways, from lens treatments to ventilation and everything in between.
In this article, we're going to look at 5 of the best anti-fog skiing goggles available with some of the top ski goggle brands to help you find the perfect pair for you.
Of course, there are quite a lot of features to keep track of, so we've reviewed the goggle's performance, characteristics, and design, as well as their aesthetic appeal which for the fashion-conscious skier, is almost as important as their own safety!
We've also included a buyer's guide below, for some helpful information and tips about what to look for in a good ski goggle design, and an FAQ below that to answer some common questions about ski goggles to help you get the best out of them, and your next skiing trip.
But let's take a look at the goggles themselves first, and weigh up their various pros and cons.
Oakley is one of the leading brands in snowsports, and they're a regular sponsor of events and professional snowsports athletes, building their brand into one of the most respected technical apparel brands.
Their flight deck model offers class-leading performance, with many anti-fog features including treated lenses, foam padding with fleece covers, and swappable lenses.
The Goggles have an outstanding field of view and inset frames for a sleek aesthetic, and there are many other amazing features such as Oakley's proprietary Pryzm and HDO technology which cement these as some of the best performing ski goggles available.
The only downside is that these goggles are top of the line and as such command a premium price over some other brands and designs.
Pros
Anti Fog Coating
Amazing Field of View
Compatible with Prescription Eyewear
Specialist Oakley Pryzm and HDO Design for clearer vision and contrast
Triple Layer Foam with Moisture Wicking Fleece
Swappable Lenses
Cons
Class-leading performance comes at class-leading prices
Bolle is another very popular snow goggle brand and their Northstar goggles are a very attractive option, complete with a vast array of features.
The wide field of view and sleek design is immediately apparent, and this is supported by an array of anti-fog features such as treated anti-fog and anti-scratch lenses, as well as dual-layer foam pads and superbly designed top ventilation to manage condensation and moisture superbly well.
The goggles are very comfortable and come with a grippy and secure strap, and there are a host of different eye-catching colors available to suit every color scheme.
There is also a dual-lens construction for added fog resistance, and equalizer vents which help the lenses resist optical distortions with changes in temperature.
The only downside is that these goggles aren't as good at resisting sunlight as some other designs.
Pros
Great Field of View
Anti-fog and Anti-scratch lens
Dual-Layer foam for comfort
Good ventilation
Comfortable strap
Cons
Not as much protection from sunlight at some other designs
Another offering from Oakley, the O-Frame is a classic design and an instantly recognizable profile for anyone interested in extreme sports.
The triple-layer foam construction is supremely comfortable and secure, and the fleece liner is excellent at wicking away moisture and reducing fog. Other fog reducing features include anti-fog coatings on the lenses and good top ventilation for solid airflow and evaporation.
The lenses offer 100% UV protection as you'd expect from Oakley's, and the field of view is great, especially considering the substantial and classic frames which make these goggles so recognizable.
The strap is wide and secure with good silicone grips, and the only real downside is that there are relatively few color options available which mean you may not be able to find a pair that quite suits your style.
Pros
Triple Layer Foam for Comfort
Moisture Wicking Fleece Liner
High-Quality lens with Anti Fog Coating
100% protection from UV
Wide Silicone lined strap
Cons
Few color options are available
SPY Optic is another very famous brand and their Cadet model is one of the best entry-level options for skiers, with many features you'd find on more expensive ski goggles.
The lenses are treated to be fog-resistant and are also scratch-resistant, which gives you great reassurance and visibility even for an entry-level google, and the Isotron face foam is comfortable, creating a good seal between the goggles and the face.
There is moisture-wicking fleece to help catch sweat and moisture before it enters the goggles, and the lenses also offer 100% UV protection which is a superb feature to keep your eyes safe and healthy after a long day on the mountain.
The strap is adequately grippy and the only real downside to these goggles is that the contrast is relatively simple and the field of view isn't superb when compared to more advanced options. However, these goggles provide excellent bang for your buck!
Pros
Anti Fog Scratch Resistant Lens
Isotron Face Foam
Moisture Wicking Fleece Cover
100% UV Protection
Silicone Ribbed Strap for Grip
Cons
Field of View is a little limited compared to some other goggles
Finally, we have Smith's Squad goggles, which are a great mid-range option benefitting from Smith's long-standing extreme sports pedigree.
These goggles are unusual as they have a metal frame and glass lenses which is unlike most other designs and an interesting high-quality choice of material that makes these goggles hardy and strong.The lenses are treated with an anti-fog coating, and there is a typical dual-layer foam padding for comfort and good fitment.There is a very wide range of colors also, which is great!
Pros
Metal Frames
Glass lens
Anti-Fog Coating
Silicone backed strap for grip
Dual-Layer Comfort Foam
Cons
Best Anti Fog Ski Goggles Buying Guide
To help you find a great pair of skiing or snowboarding goggles which are built to resist fogging,, we've collected some key features to look out for to make sure you're able to recognize which goggles are best for you.
There are a surprising number of features in such a compact package, and this is largely because skiing goggles are very important when it comes to making it down the mountain safely.
Lenses
The quality of the lenses on skiing goggles is very important as this is the thing that's going to protect your eyes from all the annoying elements trying to harm them.A great lens has many properties.
It's lightweight so that it doesn't feel heavy on your face, but also strong enough to withstand the rigors of hard skiing, brushing off branches, or handling falls without breaking or falling apart.
They need to protect you from the UV rays and brightness of the sun and the snow, as well as preventing fogging and being scratch resistant.
The best lenses are even specially designed to help filter light in a specific way to help increase the contrast of your vision and thus improve your visibility.
Some lenses are even designed to work with prescription eyeglasses, helping everyone to ski more safely, even those with sight difficulties.
While your goggles may not have all of these features, and some of them come at a premium, it's best to try and get as many of them as possible as they will all improve the quality of your skiing, making it more enjoyable and safer too.
Field of View
A good field of view is very important for skiing goggles because there is a lot to keep track of on the slopes.
Being able to keep track of everything around you, from the edges of the piste to other skiers, are vitally important to ensure you don't get tangled up in an accident and cut your skiing short.
Some goggles are specially designed to maximize field of view by using small or nonexistent frames and bezels around the lenses, as well as curving the lens to give you a clear view of your periphery with the same clarity as the central window of the goggles.
This may not be too important for some, but it's definitely worth keeping an eye out for if you like to ski fast and need to be aware of your surroundings.
Anti-fog properties
Anti-fog properties cover a range of design features used by ski goggle manufacturers to help prevent annoying and potentially dangerous fogging from occurring while skiing hard.
One of the most common solutions to this problem is an anti-fog treatment which is applied to the lenses of anti-fog goggles, which helps to prevent condensation building up on the goggles, thus reducing fog significantly and vastly improving visibility and clarity.
Another feature sometimes used is a special ventilation system which, while passive, uses the air rushing past skiers to help extract hot air from inside the goggles and thus preventing it from condensing on the lenses of the goggles as fog.
The quality of different designs and ventilation systems varies depending on the brand and model used, however, most leading brands have very well-designed ventilation systems which go a long way to preventing and reducing fog build-up.
Another feature that is little known about is a dual-lens system, which essentially creates an extra barrier between the warm air inside the goggles and the frigid, dry air outside the goggles.
This insulation system helps reduce the chances of condensation occurring which again reduces the chance of fog build up inside of the skiing goggles.
Another system is the usage of multiple layers of foam and moisture-wicking fleece where the goggles seal against the face. These materials are used for several purposes, the first being that they help create a comfortable and secure fit for various head and face shapes.
However, they are also used because they help reduce sweat build-up and help heat and moisture to evaporate more easily.
Foam is of course porous so heat and moisture can escape quite easily from these areas, while the fleece helps collect and evaporate moisture and sweat from outside the goggles, preventing it from finding its way into the goggles and thus compounding any issues of fogging or condensation within them.
Finally, some goggles go one step further than all of this and include removable lenses, which can be swapped out quite quickly and conveniently if goggles become too foggy or moist.
This is not a common method and is used only in some of the more expensive goggles, however, it is an option if you're someone who skis a lot and find persistent fogging to be an issue.
The best goggles will combine many of these different methods and designs to make their goggles as fog proof as possible, so double-check for these before you buy to get an idea of how well your goggles will actually resist fogging.
StrapA good quality strap is really important for securing goggles to your face or your helmet and they often use silicone as a grippy material to prevent them from wandering off or moving while under the intense speed skiers can reach.
Straps come in various widths, and the best ones are often designed to be compatible with skiing helmets to make them much easier to wear.
Frequently Asked Questions
How to stop goggles fogging?
If you've still found yourself with fogging issues even with a good pair of anti-fog goggles there may still be things you can do to prevent these issues.
One thing to try is to use an additional anti-fog wipe on your goggles or take some with you to the slopes to add another inexpensive anti-fog barrier to your goggles.Another thing to consider is trying to keep cool, as it's the vigorous nature of skiing and the body heat we generate as a result that causes most fogging.
Using proper skiing attire such as ski jackets can help you stay cooler thanks to their breathability. If you're finding you're still getting too hot don't be afraid to remove a layer and put it in your bag for later.
Can I use sunglasses instead of goggles for skiing?
Sunglasses are quite a common sight on the slopes and they can definitely work as an alternative to goggles if you're still struggling with fogging, however, they do have some drawbacks and can still be prone to fogging as they're often not designed for use while skiing.
Sunglasses will be much more likely to fall off or become lost, leaving your eyes unprotected and they don't offer the same features and protection as proper skiing goggles, however, there are some premium glasses out there that are better suited for skiing which is your best bet if gog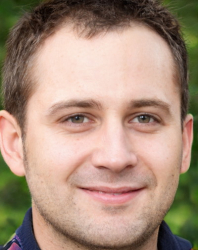 Latest posts by James Apfel
(see all)