During the offseason, skiers should still work out frequently to maintain a certain level of fitness. Even if you only ski once or twice a year, the better shape you're in, the easier skiing will be.
With a poor level of fitness, you can become more prone to certain injuries to your knees and shoulders among other body parts. One severe injury could keep you off the slopes forever.
Thankfully, you can keep fit from the comforts of your own home. However, this is only possible if you have the correct equipment at your disposal. In other words, you will need home trainers for skiers.
These machines provide the same benefits as skiing but while you're at home. And you don't have to worry about the freezing cold snow or putting yourself at risk of falling or injuring yourself.
If you can't get to the slopes too often but want to stay fit, healthy, and in form for when you next go skiing, home ski trainers are the way to go. However, not all of these machines will improve your skiing performance.
To improve your skiing game, you will need a high-quality trainer. And that is exactly what we have found for you today.
We have scoured the market and found the best home ski machine trainers for you to consider. We have compared the traits of each and weighed up their pros and cons so you can make a balanced decision on which one suits you best.
By the end of this article, we hope you can find a machine that will make you the best skier you can be when you hit the slopes next.
We start off with one of the best examples of home exercise equipment, whether you're a regular skier or a newbie. The Maxi Climber Vertical Climber is a favorite of countless skiing enthusiasts around the world as they use it to train during the offseason each year.
Easy to use, this machine offers a full-body workout and provides cardio training to help you build up stamina for when you head to the mountains next.
This way, you can spend more time on the slopes throughout the day! While it isn't like your typical skiing machine, it is certainly very effective and will help you improve your fitness levels, stamina, and endurance.
Pros
Great value for money - Its affordable price tag will suit those on a tighter budget
Versatile - Works well for all fitness levels and provides a full-body workout each time
Small footprint - Do not need a huge amount of space to set this up in your home
Cons
Doesn't offer specific ski-related movements - Although a ski trainer, it is better for those looking to maintain or work on their physical fitness rather than their skiing form
Looking to build your endurance and strength for the next time you go skiing? If so, check out this Concept2 SkiErg. This offers the highest quality for you to take your skiing to the next level. Even if you just want a home workout machine to keep your fitness up, this trainer could be the way to go.
With a small profile, the Concept2 SkiErg should easily fit most workout spaces without too many problems. For alpine and nordic style skiers, the SkiErg could be extremely beneficial due to its construction and design.
It includes a PM5 performance monitor that keeps track of calories burnt and your pace. Also available are preset workouts so you can prepare for the upcoming skiing season.
Pros
Helps to build endurance - This is one of the best if you wish to improve your endurance for longer skiing sessions
Small build - It will not take up much space and should fit most designated workout areas
Has a wall-mounted design - Freestanding machine for easier use and less space is taken up
Cons
Pricey - Compared to others on our list, this is the most expensive item
Best Home Ski Machine Trainers For Skiers Buying Guide
Choosing a surf helmet is an important decision. As a surfer, you have to be able to put full confidence into the product, as ultimately, your safety will be depending on it. The ideal helmet will, of course, vary from one surfer to another, depending on performance level, age and size. This being said, there is a basic criteria in which every safety helmet should satisfy. Below, we have put together a small guide of the sorts of factors you should be considering when looking for the perfect, protective surfing helmet.
Size
Most of us do not have the same amount of space at home as a gym does. Therefore, it is important to consider the amount of available space you have for exercise equipment. If you have a limited amount of space, you should look for a foldable ski machine or one that can be easily moved.
The lighter a machine is, the more portable it will be. This will also make it easier to store when not in use. If you are lucky enough to have a larger area for equipment, then you should consider purchasing a larger machine.
In some cases, people opt for more than one machine to work on different aspects of their skiing. This can include endurance, core strengthening exercises, and working on your skiing performance.
Durability
As with any new piece of equipment, you must consider its durability. This is highly important as some machines are cheaply made and will not withstand regular use. If you want to stay in shape for skiing, then you will need to use the machine frequently.
You should always look for a model from a reputable brand that is known for engineering high-quality ski machines. Always read the reviews from previous customers and look out for any issues with its durability.
Type of exercise
Not all ski machines function in the same manner. Some help to build stamina while others help you to build muscle. Before you choose your machine, you must consider what you want from the machine.
We highly recommend getting a machine that matches how you like to train and one that can actively help you achieve your goals. These can include general fitness goals or help on your skiing form.
Do you need a skiing machine?
Some of us ski once a year while others try to hit the slopes at least 5 times. Even if you ski more than the average person, it is very hard to find a way to ski all year round. If you can't ski as often as you'd like, this is when ski machines come in handy.
These home trainers will help you stay in shape so you can become a better skier and a healthier person over time. If you want to enter the ski season in the best possible shape, then a home ski machine is the way forward.
These machines are not only great for staying in shape for skiing but they are ideal for exercising in general. You don't even need to be a skier to use them. If you're just looking for a device to help you work on muscle building or stamina, then ski machines can be a great option.
If you live in an area where you can ski all year round or do not like to exercise during the offseason, then a skiing machine is probably not the right choice for you at the moment.
In Summary
If you want to be in peak physical condition for the rigors of skiing, then you need to work on your fitness during the offseason. The machines we have included above provide the best possible ways to improve your endurance, stamina, and become a stronger and better skier when you hit the mountains next.
Even if you just want to exercise in general, ski machines are a great way to do so. Next time you hit the slopes, you will be surprised by how a few extra months of exercise will have helped you improve your skiing game tenfold.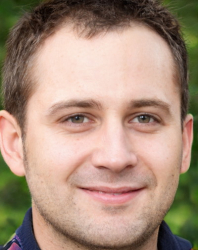 Latest posts by James Apfel
(see all)