Regardless of whether you're an advanced skier or you're just getting started in this adrenaline-fueled sport, sooner or later you're likely to encounter rainy conditions while out on the slopes - so it's a good idea to make sure that you know what to do when you encounter this type of wet situation!
As we're sure you're likely already well aware, snow won't instantly melt as soon as a little bit of rain starts to fall - especially if you're skiing in a naturally cold climate.
However, even though this might very well be the case, persistent rain can cause sleet and ice to begin to form, and that can be especially hazardous and slippery for skiers.
So, what can you do to stay safe while skiing, no matter how rainy the weather might get?
Well, for starters, the good news is that it is possible to safely ski if it's rainy outside, although if you want to get any enjoyment out of it, it's important to make sure that you have the right equipment and are following the necessary precautions - and that's where we come in to lend a helping hand.
In this helpful article, we're going to be talking to you to safely ski if you suddenly find yourself caught in a rain shower.
From how to ski in different types of wet and slippery conditions, how to safely navigate your way through adverse weather conditions, all the way to the best equipment you can use to ensure maximum safety, comfort, and enjoyment levels, we've made sure to cover all bases.
So, no matter whether you're preparing for your very first ski holiday and you want to be prepared for all types of weather, or rain has been forecast and you want to brush up your skiing skills in the rain - this article will show you how to ski safely and successfully, come rain or shine! Read on.
How Do You Safely Ski While It's Raining?
Kicking this guide off, we're first going to be talking you through how to safely ski if you find yourself caught in the rain! Even though it can feel a little bit daunting, if you happen to find yourself stuck in a rain shower while you're out on the slopes, there's no reason to panic.
As we have already touched upon above, rain won't typically be able to melt snow (especially if you're skiing in a colder part of the world) so you will still be able to ski as you normally would.
However, even though the rain won't necessarily be able to get rid of any snow, it does have the potential to create ice and sleet, and that can be a potentially dangerous situation that you should be aware and prepared for in the instance that it does occur.
Can Skiing In The Rain Be Dangerous?
To follow on from what we've mentioned above, yes, it can be dangerous to ski in the rain - but that doesn't mean that you can't carry out safety precautions and techniques that will help to prevent you from getting injured.
So, to make sure that you're prepared for all possible rainy and wet conditions while out on the slopes, check out the following sections below to make sure that you can enjoy your skiing experience while also ensuring that you stay safe. Check them out below;
How To Safely Ski In Icy, Wet Conditions
If you're out on the ski slopes and you encounter some wet and icy conditions, then the first thing that you need to do is stay as calm as you possibly can, as panicking will only make the situation worse.
It's important to keep in mind that icy slopes can occur for a variety of reasons besides rain, including a lack of fresh snowfall and heading out early in the morning - so being aware of how to safely ski in icy conditions can apply to a variety of situations.
In order to safely ski in icy conditions, you're first going to need to make sure that you've got your speed under control. The last thing that you want to happen is to find yourself losing control of your skis due to increased acceleration caused by the slippery surface created by the ice.
Paired with wetness caused by the rain, you can find yourself in a dangerous situation, and fast! So, alongside keeping speeds to a sensible level, you should also ensure that you aren't making jolty, harsh movements, as this could cause you to lose your balance.
Instead, you should do your best to maintain a strong, secure stance by placing your feet around shoulder-width apart for stability, while also making sure that you are bending your knees and supporting joints to allow for greater flexibility.
We also recommend that you maintain your patience and travel more slowly, ensuring that you aren't losing your balance as much as possible.
How To Safely Ski Across Slushy Snow
If the rain has caused your skiing conditions to become slushy and wet, then you're going to need to make sure that you are slowing your speed down significantly to ensure that you do not lose any control over your skis.
From that point forward, you will then need to make sure that all of your movements are extremely slow and controlled, as sudden, sharp movements could cause you to lose your balance and potentially fall.
In addition to refraining from sharp movements, you should also be sure to allow plenty of leeways to make turns, as short and sharp turns might cause your skis to sink into the slushy snow and get stuck.
How To Safely Ski In Windy And Rainy Conditions
If you find yourself dealing with rain and wind, you're going to need to be extra careful while out on the slopes.
Combined with rain which can reduce your ability to clearly see around you, large gusts of wind can cause you to get thrown off balance while skiing, and this can be very dangerous when in close proximity to large ski slopes and drop-offs.
So, in the event that you get stuck in rainy and windy conditions, you will need to get yourself to a safer part of the ski slopes or mountain so that you can wait it out until it is safer to travel back.
How To Safely Ski While It Is Snowing
If you're lucky enough to find yourself skiing while it's snowing, then you're in for an awesome skiing experience because freshly fallen snow offers optimal skiing conditions!
As you won't have to worry about slushy or wet conditions, you will be free to have fun out on the slopes. Check out the advice below to take your skiing skills to the next level:
Keep your feet together and bend your legs to increase stability which will allow you to react to unexpected bumps and dips more easily.
Flow with the terrain rather than try and move in opposing directions, as this will prevent you from getting into a controlled yet exhilarating skiing flow.
Get into a natural rhythm of planting the pole at various points to help make turns, adjustments and to increase acceleration.
How To Stay Warm On The Rainy Slopes
One of the most important safety precautions that should be taken prior to setting off on the slopes is to make sure that you are equipped with a high-quality raincoat that will be able to make sure that you stay warm and dry - no matter how wet the conditions might be!
Ideally, you should make sure that the ski jacket you buy has a high waterproof rating, otherwise, there is a strong chance you will get wet, which is something that we're sure you won't want to occur.
For the best chances of staying warm and dry when caught in the rain, we recommend that you opt for a ski jacket that has a waterproof protection rating of at least 16kmm.
Essential Rain Equipment: Ski Goggles!
Alongside making sure that you're well aware of the different skiing techniques and methods that should be implemented in the event that you get caught in a rainstorm or are dealing with the aftermath of one - you should also ensure that you have the proper equipment, aka a pair of ski goggles.
Ideally, we recommend that you opt for ski goggles that are ideal for wearing in rainy, wet conditions when visibility is likely to be diminished somewhat, as the proper pair of goggles will be able to help boost your visibility and safety levels.
Wrapping Up
There we have it! You've made it to the end of this article. After reading through this guide, we're hoping that you now have a much better understanding of what to expect from skiing in the rain, as well as having any worries that you might have had put to bed.
Remember, it's completely fine to ski in rainy, wet conditions so long as you are carrying out all of the necessary safety precautions beforehand.
However, in the instant that you don't find yourself unintentionally caught in the rain or in a particularly icy skiing patch, we do recommend that you use caution and make the most suitable judgment when deciding whether or not to ski in particularly adverse weather conditions.
Your safety is the most important of all, and you can always go back and ski when the weather clears up and conditions improve.
While you're here, why don't you give this page a bookmark? That way, if you ever find yourself wanting to refresh your memory on how to safely ski when caught in the rain or ice, then you'll know exactly where to find this helpful guide. Thanks for reading, and happy skiing!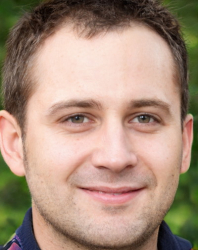 Latest posts by James Apfel
(see all)